ClayWorks
is a strong advocate of creating energy efficient, climate-responsive spaces with a low carbon footprint that features local materials. We intend to disrupt the co-working space sector by retaining our focus on sustainable spaces with a focus not just on energy and carbon but more importantly being human centered – good ventilation, optimal daylight, enhanced thermal comfort level, optimized indoor air quality, and warm aesthetics with biophilic interventions. The focus on people, while developing the workspace, helps to increase productivity while they use the facilities.
With Bengaluru witnessing rapid urbanization and its adverse effects, ClayWorks is committed to a more responsible path to progress. We aim to continue to preserve the history and the environment of the city in partnership with our clients, vendors, and other stakeholders. ClayWorks hopes to be a facilitator of change in Bengaluru – and soon in other cities – as it realizes the future of work with its hybrid, sustainable, and managed workspaces.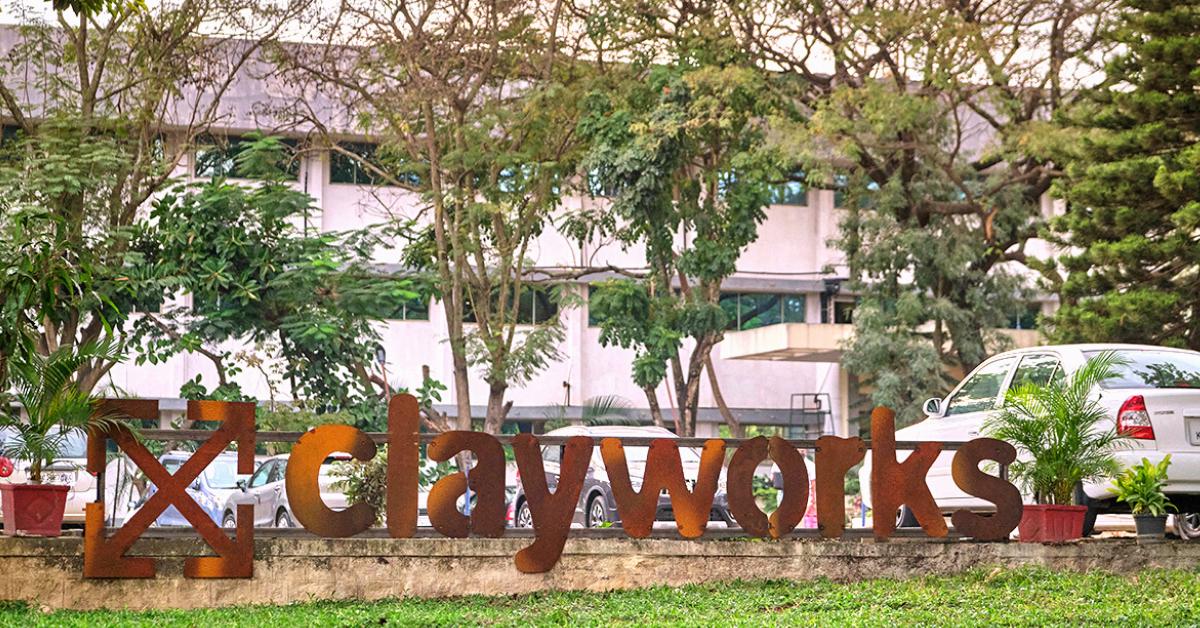 Our vision statement (read below) shows our commitment toward sustainability to ensure all our acquisitions, operations and maintenance and future growth have a strong sustainable framework
"When we started, we wanted our workspace to be impactful, not only for our clients but also in terms of the environment and the community. We are motivated to take our vision forward and reach a point where we not only reduce but avoid using resources that contribute negatively towards the environment."
We, at ClayWorks, believe that protecting our environment is no longer an option or a distant goal to be achieved, but rather must be an imminent and integral part of every business' goal and mission.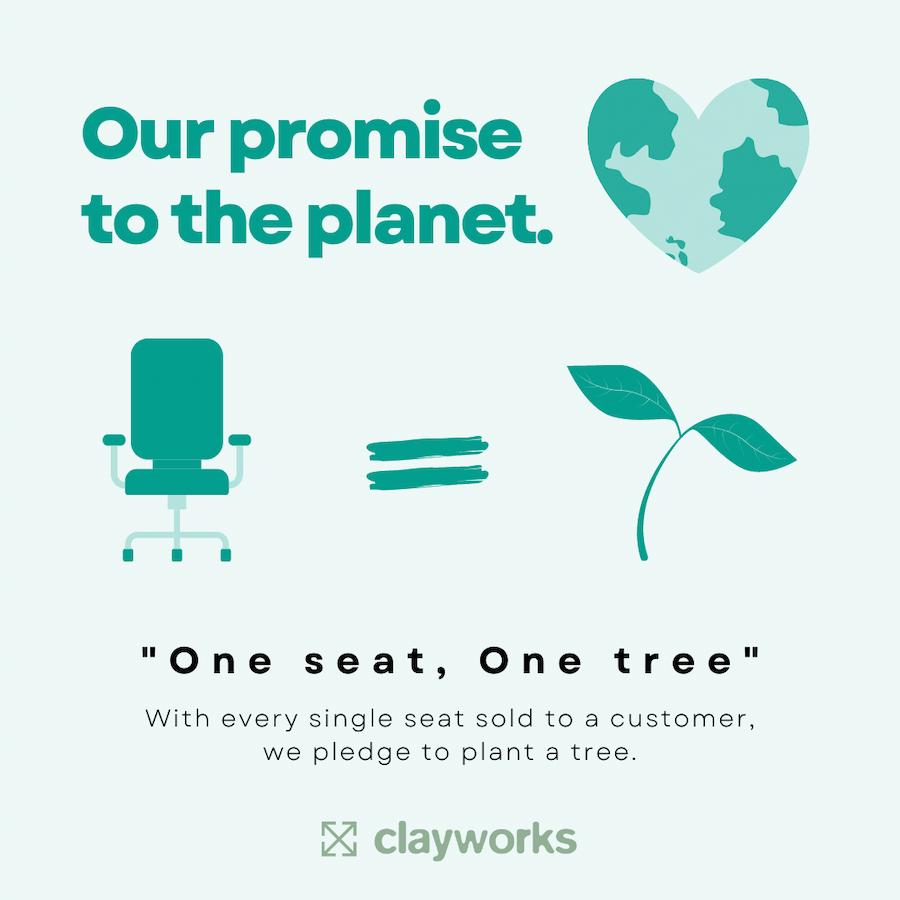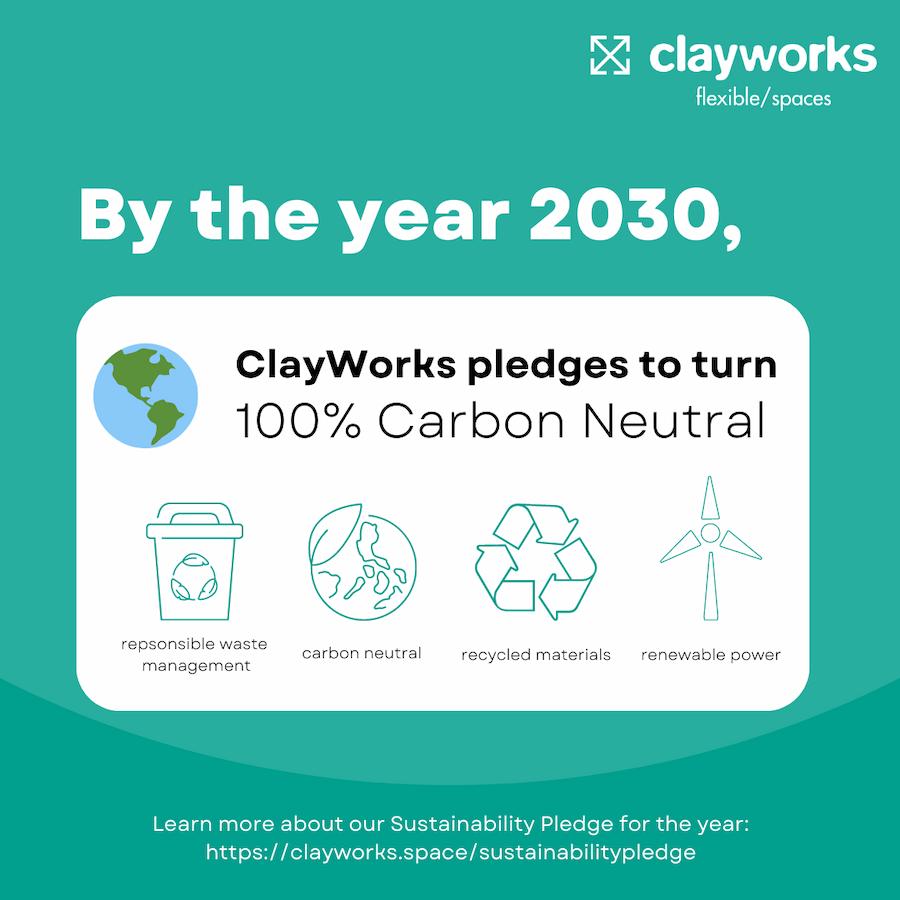 We aim at achieving 100% Carbon Neutrality (or Net Carbon Zero) by the year 2030. And as a step towards Carbon Neutrality, starting this year, we take on the initiative of "One Seat, One Tree". Through this initiative, ClayWorks pledge to plant one tree per seat occupied at any of our ClayWorks property. This initiative will be undertaken as a part of negating the carbon emission caused by the occupancy of each new client, in the long run.
Adding to our already green facilities this seemed extremely promising when it occurred to us that, given the number of new clients from our numerous facilities, the number of trees to be planted would be an eye-opening initiative to many other businesses. Our community will benefit greatly from the increased awareness and change brought about by this endeavor.
In all of our initiatives, we pledge to become carbon neutral by 2030. Looking at the facts and figures, in a few decades, humanity's survival will be a constantly narrowing door. We want to make a change in this and help in making an environmentally sustainable future. As ClayWorks has worked to reduce its carbon footprint since its inception, going the additional mile as a pledge is something we are looking forward to.
We at ClayWorks are keen to make this Environment Day the most valued of all of our efforts and deliberations. The goal is to be a viable workspace provider while also becoming more impactful in the future. As part of our concrete dreams for the future, we also strive to make our facilities solar-powered in the coming years, to ensure that the energy we use for everyday operations comes from a long-term sustainable source.
ClayWorks shall also continue to add more initiatives and take further steps towards sustainability each year, with the help and advice of a team of Climate Experts serving on our board of advisors. We hope that you too will join us in our efforts in making a Sustainable Future of Workspaces.